Booking
Wix Reservations
---
⭐⭐⭐⭐ Developed by Wix Functionality
Enables table booking online.
Settings
Choose title
Activate and add description
Edit button text
Horizontal or vertical layout
Choose color, font, border or background
Limitations
No online payment functionality
---
Wix Booking
---
⭐⭐⭐ Developed by Wix Functionality
Online booking of services/ appointments.
Settings - Free version
Create staff members accordingly
Layout: adjust layout, choose between side by side, overlapping, stip, grid and ajust spacing.
image layout, (rectangle square or round) Also choose image size options
Display: choose what to display on each service, check the relevant details
List of service title & Button text
Design: add relevant color in list background, service background, image background, border and service details dividers
Limitations
Only accepts payments through premium accounts
Pro version necessary to allow bookings
Set-up takes a long time
Scheduling setup can be set to 1h only on the Basic package
Send auto-reminder emails available only for Premium version
Online Payments available ONLY for Premium version
Take Bookings 24/7 available ONLY for Premium version
Cannot connect to own domain on Basic package
You can create single services or membership on Premium
Reminder emails and other automation emails are available only on the Premium version
---
---
Contact
Wix Chat
---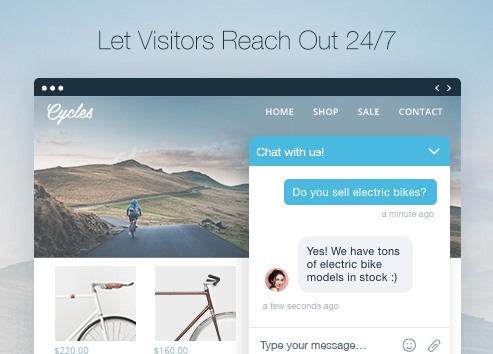 ⭐⭐⭐⭐ Developed by Wix Functionality
Chat live with customer through the wix chat app.
Settings - Free version
When not available online, the wix chat box offers to send the business the email address, the name the phone number. These fields can all be customized.
The form can be set to display when online and when offline.
The form can be set to be mendatory.
It is possible to connect the chat function to the business gmail.
It is also possible to connect to a personal facebook profile and then answere customers through facebook.
Set notifications, receive an email evertime someone reaches out through the chat.
Notifications can also be set as desktop notification that will appear through your browser.
Email settings includes, Business name, a name a message subject, and an email sugnature.
It can be a bar or a rounded icon.
It can be in the lower right or lower left corner.
Can edit backgound color, message color, header color, border style.
Settings - Payed version
Enables chat hours, letting visitors know when you are available to chat.
Add business logo Edit profile picture present in the chat header.
Remove advertisment from ascend.
Limitations
It is connected to the Footer, therefore it won't show on websites with the No Header & Footer option selected.
The chatbox doesn't appear on member login pages. It only appears after the member logs in.
Fonts can t be changed.
---
123 Form Builder
---
⭐⭐⭐⭐ Developed by independent dev Functionality Forms : Contact, customer satisfactory survey, event registration form, order form, Job application form, Online quiz, sales lead form, Donation form, Subscribe to a newsletter form, online poll, testimonial form, support request form and customizable forms. Settings - Free version
10 fields max
100 form submissions
5 forms per site
Stellar Support (Live Chat)
24+ Form Field Types
Anti-Spam Protection
Custom Design
Optional and Required Fields
Settings - Paid version
Custom autoresponders
Multiple Reciipients
File upload and html Content
Advanced data management
Pdf Submissions
Google drive
Private and public reports
Limitations
In order to access all features this add on should needs to be upgraded to premium
Needs an account to function to
---
---
E-Commerce
Wix Restaurant Orders
---
⭐⭐⭐⭐ Developed by Wix Functionality
Enable online food orders for Restaurant type business.
Settings - Free version
Pick-up: Define amount of time needed to prepare and pick-up orders after order.
Delivery: Set up minimum order (EUR) and delivery charge.
Choose between layouts: grid or list style.
Settings: show the banner image of each section.
Display Icons for the dishes.
Set colors for each different elements (main text, frame, actions, special dishes and Background.
Choose font and background color for the side bar.
Set the different labels, Monochrome, filled, outline, icon color and background color.
Add all dishes in the dashboard.
Choices available: Pick-up / Delivery
Disable online ordering if needed
Delivery: Select more than one area by radius
Delivery: Set up maximum deliver time
Pick-up and Delivery: Set up availability
Notifications: online, email, text, phone call, etc.
Notifications: see if there is any unhandled order
Future orders: Customers can place orders in advance.
Manage orders through dashboard
Settings - Paid version
Payment: Cash or card (ideal not available?)
Payment: SMS validation available
Limitations
Need to pay, in order to activate online payment
---
Wix Stores
---
⭐⭐⭐⭐ Developed by Wix Functionality
Settings - Free version
Import CSV,
Set up layout, sorting options, image crop, set adjust color to brand
We should set a standard Webshopt that includes filters and sorting options
The app automatically creates shop page, product page and thank you page,
You can edit, add, organize by collections, all your products
You can create discounts, or other promotions per collection or per product, set a time frame for it and many other options
You can send emails with the promotions
Limitations
Premium is needed in order to accept online payments
---
Price Table POWr
---
⭐⭐⭐ Developed by independent dev Functionality
Similar to Paid plans, this allows for price listings.
Settings - Free version
Set colors, border, highlights, spacing
Set products, packages etc
Limitations
In order to list more than three packages you need to upgrade to premium
On the free account POWr adds can t be removed
This needs to be done manualy for for each product
---
Paid Plans
---
⭐⭐⭐ Developed by Wix Functionality
Allows to set up paid plans.
Settings - Free version
Choose how much the product costs, if it is a recurrent cost, weekly montly yearly. etc
Choose the definition of each plan,
Change colors, background, Plan module
Choose to show header, plan name, plan tagline, plan Benefits.
add devider and choose text alignment.
Choose text button
Limitations
Needs a premium plan
Design is limited
All buttons need to have the same text, as it is a general setting for this app.
According to reviews this app seems buggy.
This app needs its own page on the site.
---
---
Other
Wix Restaurant Menus
---
⭐⭐⭐⭐ Developed by Wix Functionality
Display a clean Menu for a restaurant.
Settings - Free version
Layout, choose between nine different layouts, some of which include pictures of meals etc.
Choose font
choose color of font
Adjust the color of the menu seperators
And change the color of the background.
Choose if the menu displays the price ( this can be set individually per product and include taxes)
Choose if the menu displays Dish options
Choose if the menu displays Section images
Choose if the menu displays Dish icons
If multiple menus, you can choose which ones should be visible on the site.
Adding menu
Limitations
You have to stick to the 9 different layouts.
Adding each dish of a menu can be time consuming
---
Site Search
---
⭐⭐ Developed by independent dev Functionality
Settings - Free version
Number of searches
Frequent Sync
Search and navigation
Change colors, background, place holder text, border,
Change fonts
Round corner
Shadow
Adding magnifying glass
Settings - Paid version
AutoComplete Suggestions
Business dashboard
eCommmerce search results
Remove Logo
Limitations
Only works after site has been published
You need the space to type in text, so you can't only show the icon and than expand on hover or click
Synch after publishing takes a while
It's not possible to have a transparent background color for the search icon/box
Can't change the color or style of the magnifying glass
---
Visual stats bar
---
⭐⭐⭐ Developed by independent dev Functionality
Animated visual stats bar
Settings - Free version
Adjust colors according to the design of the site
Inisrt values of requested by the client
VAlues can be pulled from amend sheets on premium version
Add relevent value
Layout
Limitations
All animation design is only available with premium
Most layouts are only available with premium
---
---
Maps
Google maps by Wix
---
⭐⭐⭐⭐ Developed by Wix Functionality
Enables display of map, through google maps.
Settings - Free version
Set location
Set name of business
If mulitple locations this is an option.
Set the option that are displayed
Add a link relevant
Limitations
---
Located - Store Mapper
---
⭐⭐⭐ Developed by independent dev Functionality
Mulitple Store located on one map
Settings - Free version
Set locations
Set languages, distance units, View radius, enable map dragging, enable scroll zoom, use visitor location and sync accross widget
Set theme
set map options
Choose relevant color for the markers on the map, set a custom marker with logo and adjust size
Limitations
---
---
Media
Wix Pro Gallery
---
⭐⭐⭐ Developed by Wix Functionality
Gallery of pictures and videos
Settings - Free version
The layout can be customisable and has many different options
Easy to choose which picture displays where thanks to drag and drop mode
Each picture can have a title, a description and a link
The content can be set to be downloadable
The content can be shareable through social media
Add overlay on all pictures
Color of overlapping icon
Add overlay effect when hovering on image
Add a mouvement effect when hovering over the the image
Image loading options : Blurred or Color placeholder (blurred recomended)
Limitations
not supported by IE10
Jpeg images supported only
---
---
Social
Instagram feed
---
⭐⭐⭐⭐ Developed by independent dev Functionality
Display instagram feed on site
Settings - Free version
Connect to customer account
Layout setting
language setting
choose what the hover displays (description and Likes and comments)
Set color coherent with site
Limitations
Caption can only be on hover.
---
Wix Forum
---
⭐⭐⭐⭐ Developed by Wix Functionality
Enable Forum platform on site
Settings - Free version
All elements withing the app can be customised in terms of texts, colors, titles.
Set whether the client wants only members to be able to participate
Limitations
No possiblity for anonymous posting
---
Social media icons by POWr
---
⭐⭐⭐⭐ Developed by independent dev Functionality
Add social media links on the site
Settings - Free version
Choose type of social media & and add link repeat for each social icon
Change layout : Horizontal or vertical and icons size
Add effects
Change Icon color and background color
Change hover effeect color
add border
Ability to add code
Limitations
Free plan only allows for 3 links, and leaves a advertisment link to the developer.
Added effects only available on Premium
Changing background color affects all icons
---
Facebook Comments
---
⭐⭐⭐ Developed by Wix Functionality
Display facebook comments
Settings - Free version
1 to 10 comments can be displayed
Choose text color
Choose to display from oldest to newest or frome nrewest to oldest commetns
Limitations
Show only up to 10 FB comments
Choose only light or dark text
Range display is users choice
---
Wix Blog
---
⭐⭐⭐ Developed by Wix Functionality
Insert blog post into the site
Settings - Free version
Set all colors, background, hover effects, buttons, fonts
Enable Send emails notifictations to subscribers
Create posts
Import posts from Wordpress
Define Blog menu Activate/ or desactivate
Set Layout, and how they should load
Limitations
Limited options of scheduling posts
Limited text / formatting options
It is possible to import posts only from WordPress ( for now )
---
---